Since the 1998 our agency professionally develops web sites, e-commerce systems, data bases and other internet based systems.
We provide full range of web services starting from system concept till development, maintenance and support.
read more...
On 2004 development processes of internet solutions and applications in our company is certified in accordance with ISO 9001:2000 standard.
CityCredit payment system
SMS/internet based system widely used in Latvia, e.g. for parking payments, purchase of tickets and other services.
Riga region project management system
Comprehensive project management tool used by Riga City Council, regional development agencies and number of institutions across the Europe.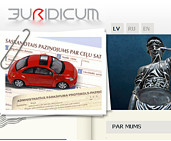 Juridicum
www.juridicum.lv
Juridicum ltd. basic activity is to provide qualitative legal aid and useful advices for solution finding in legal questions for physical and legal persons. Our field of specialization where we have gained years of experience is insurance.
Reģionālās attīstības un pašvaldību lietu ministrija (RAPML)
www.raplm.gov.lv
The Ministry of Regional Development and Local Government of the Republic of Latvia is the leading state administrative institution in the field of planning and coordination of state and regional development, local government development, spatial planning, state investment and land policy, as well as e-government , information society and information technology area.
Mālpils pagasta padome
www.malpils.lv